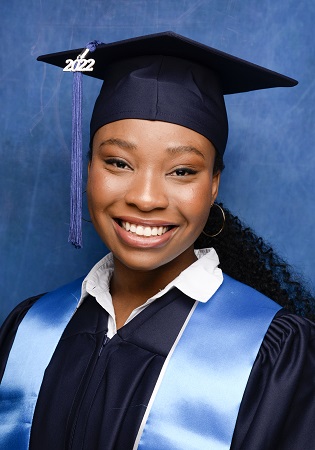 GAA Student Spotlight - Ejemen Idemudia
We are extremely thrilled and honored to celebrate Ejemen "Eje" Idemudia, Class of 2022! The winner of prestigious Sheikha Fatima Award for Excellence, Eje has recently received acceptances from three Ivy League universities - Cornell University, Brown University and University of Pennsylvania! Which was not a surprise at all - Eje has been a hardworking student who sets high standards for herself since the day she joined GAA in 2016.
We asked Eje to share some insights about her experience for our future graduates. Please enjoy!
What was involved in the university application process and how long did it take?
"I applied to all my universities using the Common App–the US's college application form. I wrote my Common App personal statement over the summer between junior and senior year, then completed the rest of the Common App application including my supplemental essays for each individual school over the first few months of senior year. For a few universities, I had additional requirements such as video supplementals and interviews. The whole process, from writing my personal statement to my last interview, took about 5 months."
What kind of support did you receive from your school and the wider GEMS network?
"My teachers and counselor were of great assistance through the whole college application process. They offered generous advice and guidance throughout and I was able to freely discuss college plans with my teachers and ask for assistance where needed. As well, my counselor set up workshops in junior and senior year to walk students through certain parts of the college application process and these were of great help.
How did you go about and what were your top considerations when making your decision on where to apply?
"I went into the college application process already completely sure of what career path I want to pursue, so this made narrowing down my college list slightly easier. I plan to pursue a career in medicine in the United States, so for all of my schools, I applied as a biology major (or some variation of biology) on the pre-med track. For this reason, like most students, I searched for schools that were ranked highly in biology/pre-med and had high medical school acceptance rates for their undergraduate students. I also applied to a few BS/MD programs (Bachelor of Science and Doctor of Medicine degree program) where I would get assured admittance into medical school.
I knew that I wanted to attend a university that would challenge me, open doors for me, and provide me with connections post-graduation, so I applied to several top 10 schools, such as Brown University, the University of Pennsylvania, Cornell University, Vanderbilt University, and Rice University."
Any advice for others looking to go the Ivy League route?
"I advise that throughout high school you get very involved in things that you are passionate about. When you find your niche, whether it is sports, public speaking, art, or something else, you should stick to it. As a result, it will be clear to the admissions officers reading your application who you are outside of the classroom and what makes you special. I believe that Ivy League schools are looking for students that will bring something special to their school, people with personalities, aspirations, limitations, and undeniable strengths that will be a substantial addition to their institution. So, while you may have the grades to apply to an Ivy League school, it is important to shine in other areas. They don't have to be standard, universal extracurriculars, just areas that showcase your authenticity and uniqueness.
Then, when it comes to the actual application process, start early! You need to set aside more than enough time to write your supplemental essays. I feel that these are a critical part of your application and allow you to display your personality and tell admissions officers something about yourself that they would not be able to know from simply reading your file."
What are your hopes and aspirations for the future?
"In the future, I aspire to be a trauma surgeon. Then, one day, I hope to be the medical director of a hospital. I would like to eventually take on this leadership position and be able to oversee all the medical services in a hospital, working to improve the quality of healthcare."
Congratulations, Eje, and good luck in your future endeavors!