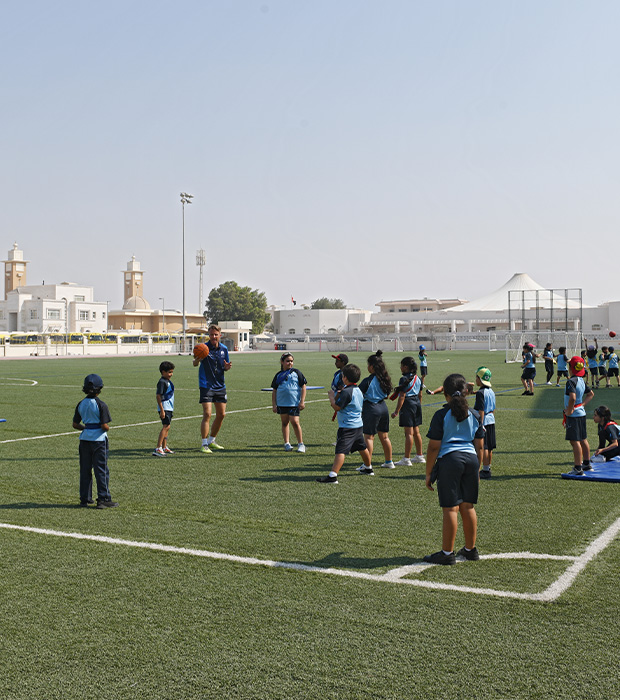 Athletics
Athletic program is a vital part of our student's education. The GEMS American Academy endorses a comprehensive athletics activities program intended to enhance the physical, social and emotional growth of participating students. Our Athletic program emphasizes participation in the early stages of the program while becoming increasingly competitive as the student progresses.
GAA Philosophy of Participation in Athletics
GEMS American Academy believes that athletics are an integral part of the educational process, providing valuable educational experiences outside the classroom curriculum. Many valuable lifelong lessons such as sportsmanship, teamwork, commitment, etc. are learned through participation in athletics and activities. It is the goal of GAA to maximize the opportunities and effectiveness of the lessons learned through athletics. The following components contribute to the enhancement of the philosophy:
Vertical Integration – youth and middle school programs that support the high school athletic programs.
Development of fundamental sports skills.
To provide GAA students with a diverse array of options for co-curricular learning and growth.
Competitive athletic programs that promote academic and athletic excellence.
Programs that allow for maximum opportunities for student participation and that are developmentally appropriate, tailored to the physical, mental and emotional maturity levels of the participants. Principles of fair play and sportsmanship, both on the field and in the stands.
Highly qualified coaches and staff with opportunities for professional growth and development.
We aim to foster a positive environment in which both coaches and students demonstrate; perseverance, dedication, good sportsmanship and respect for all.
More specific and detailed information about our Athletic program can be found in the GAA Extracurricular Activities (ECA) Website.
Academic Games

Athletics

Swimming Boys/Girls

Middle School

·

JV
Varsity

Volleyball Boys/Girls

Middle School

·

JV
Varsity

Soccer Boys/Girls

Grades 4-6

Athletics

Basketball Boys/Girls

Soccer Boys/Girls

Tennis Boys/Girls

Cross-Country Boys/Girls

·

Track & Field

Swimming

Athletics

Badminton Boys/Girls

Track and Field

Basketball

Swimming