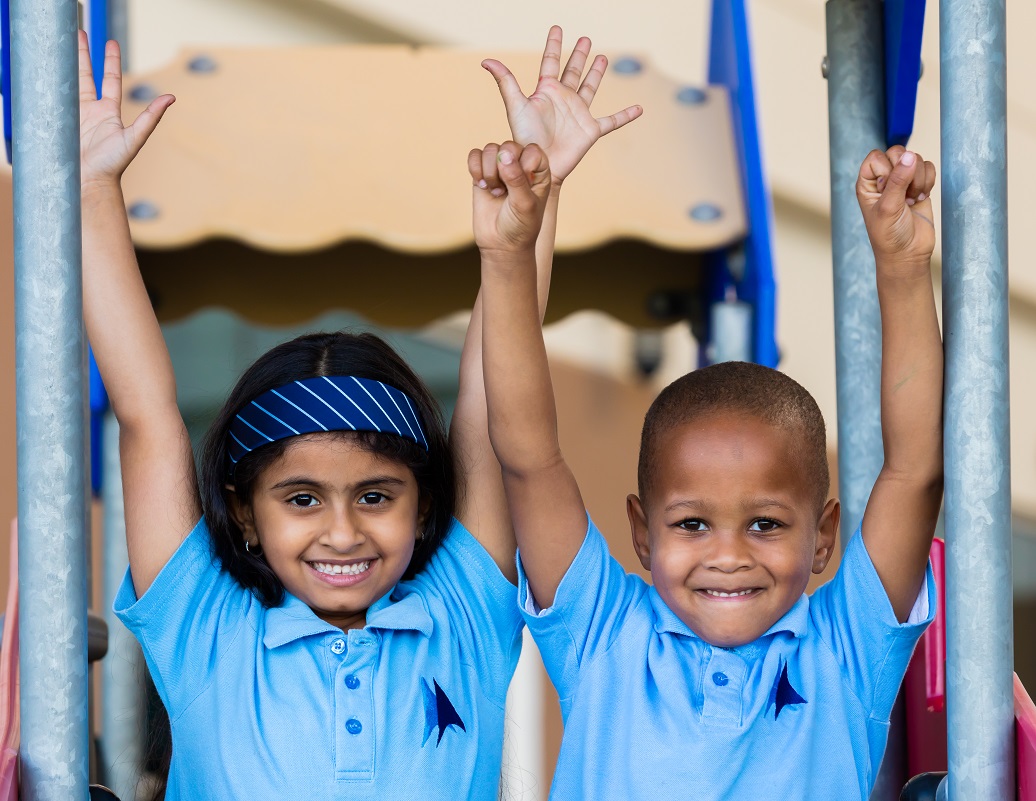 Admissions Process
How to begin your child's journey
Admissions testing is required for all students for entrance and grade placement. Students must be at the appropriate academic levels in Reading and Math to successfully access the GAA curricular program.
If you would like to enroll your child at GEMS American Academy, please complete the Student Online Enquiry form.
Please check the list of all required documents and the attestation to register the child with Abu Dhabi Department of Education and Knowledge (ADEK).
Admissions Assessment
Kindergarten (pre-K, KG1, KG2)
For applicants applying to Kindergarten, the parent completes the online application and meets with GAA admissions team to schedule a KG familiarization. Children who are ready for pre-K, KG1 and KG2 are age appropriate for requested grade level and are able to:
Manage bathroom independence.
Engage in activities and follow directions.
Demonstrate some fine and gross motor skill development at age appropriate level.
Express and accept communication skills.
Grade 1
All applicants for Grade 1 are assessed in basic literacy and numeracy skills with the school counselor. Social - emotional and behavioral development will be also evaluated.
Grade 2 - 6
All applicants for Grades 2 to Grade 6 are assessed in literacy and numeracy as part of the admissions process. GAA conducts assessments using the standardized MAP (Measure of Academic Progress) test. MAP is a computer- based testing system built on 30 years of research and refinement.
Based on the information received from the measures, students may be asked to meet with a counselor to gain more information about the student's ability to benefit from the curriculum at GAA. English Language proficiency and/or learning skills may be assessed upon recommendation by school personnel.
Grade 7 - 12
All applicants for Grades 7 to Grade 12 are assessed in literacy and numeracy as part of the admissions process. Students will take the standardized MAP. In addition, students are required to take Math and Writing assessments. The Secondary academic program offers specific courses at specific grade levels. A review of student transcripts is necessary to determine if a student is qualified to participate in the GAA curricular program.
Student Support Services
GAA provides limited special education services resources to students with individualized education plan (IEP) from previous schools. Students must be successful with moderate assistance in the regular classroom curriculum program provided.
For students to fully participate in the school's instructional programs, students are required to have English language proficiency. Students may be admitted without such proficiency provided they satisfy all enrollment regulations and qualify for GAA's ELL program, subject to availability of space. Applicants for Grade 6 to 10 must have Basic English proficiency, as there is limited English Language Learner support. Applicants for Grade 11 and 12 must be fully proficient in English, as the ELL program is not available in these grades.
Previous Schooling
All new students must provide official documentation of previous school experience, including transcripts, report card and test scores. All documents must be in English. GAA may request certification of translation from the Consulate of the country in which the student last attended to meet admission requirements.
Student Registration/Applications
Applications for the 2024-25 school year at GAA is open.
Step 1: To begin the application process, you must register online using the GEMS Online Student Registration website. Before accessing this site, you may wish to read the following guidelines providing simple instructions for completing the online application process.
Please click here for easy step-by-step instructions on how to register your child in a GEMS school.
Step 2: Once you have completed the online application, you will receive an enquiry number. Please print a copy of this receipt and keep it for your records. If you cannot print this page, please ensure that you write down the Enquiry Number for all future correspondence and queries. Without the Enquiry Number, we cannot verify your Enquiry.
Step 3: Once you have received your enquiry number, please contact GAA Admissions office with the following documents to proceed with the completion of the enquiry and ensure admission for your child.
Documentation Required for Processing an Application:
1 copy of the applicant's passport
1 recent passport size photo of student
Two years of school reports (the most recent report must be included) REPORTS MUST BE IN ENGLISH.
Any learning support documents pertaining to your child's educational needs.
Completed Confidential School Recommendation Form
Standardized Tests Results (if available)
For Early Years, please submit nursery reports if available
1 copy of child's Birth Certificate (must be in English or Arabic)
Child's and parents' Emirates ID Card*
1 copy of child's residency visa*
Transfer Certificate (grades 1 and above)*
Official transcript (Grades 10 through 12)*
* The U.A.E. Residence Visas, Emirates ID cards, Transfer Certificate and Official transcript are not needed at application processing time, but will be needed at actual enrollment time. These are mandatory documents for the registration of the child with the Abu Dhabi Department of Education and Knowledge (ADEK) and must be submitted within 30 days of the start of the school.
For more information please contact our Registrar, Ms. Asma El Derby at [email protected].
For information on other GEMS Schools, please visit the GEMS website at www.gemseducation.com
Admissions Forms
Attestations and Transfer Certificates
Recommendation Letters
School Tours
Tours of the school are conducted on Mondays through Thursdays. Parents interested in taking a tour of the school can book with our Front of House Team either by email:[email protected] or by telephone: +971 2 2019 555