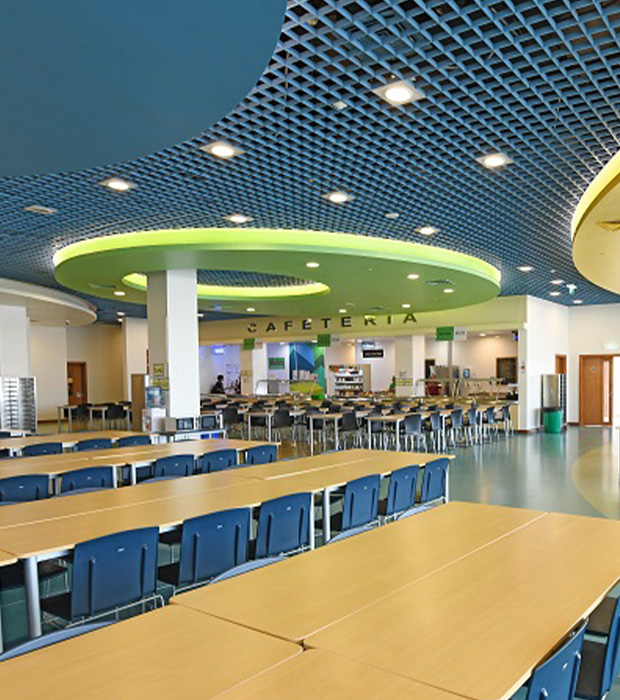 School Cafeteria
At GAA we offer a hot meal service to students in all Grades, this is at an extra cost to parents but not mandatory; parents may also send children with a packed lunch.
In order to ensure the safety of our students, the following changes have been made to lunch options:
KG-Grade 5 students will be required to bring a packed lunch (including utensils) from home. There will be no access to our cafeteria for elementary students and lunches must be eaten without the use of refrigeration or microwave. No water fountains will be operating at school, following health and safety requirements by ADEK: We ask students to arrive at school with a sufficient supply of water for the day. There will be water dispensers around school to purchase, if needed.
Secondary students will have access to prepackaged lunches, which will be distributed at various points in the school to prevent large crowds from gathering. Should the students opt for home-made lunch, they must bring their own plastic safe utensils.
NO CASH EXCHANGE WILL BE ALLOWED BETWEEN STUDENTS AND CANTEEN STAFF. We strongly encourage parents to register online and top up their child's account to enable them to start using their School ID. Every time the card is presented at a cashier, the balance is displayed and this lets pupils know how much money they have available. Parents can top up from any PC, tablet or mobile device that has an internet connection and follow the simple instructions to add funds to your child's Slices ID.
Please register for your child's account at https://pay.slices.ae/
For Sign-up Guide, please click here.
SLICES SCHOOL CANTEEN & CAFÉ SERVICE RE-OPENING PLAN
With the view of reopening Slices school catering services safely, and in line with current Health guidelines regarding the Covid-19 in the new academic year, Slices Operations teams have been working hard over the last few months to adjust our service model to ensure students are provided with a safe, hygienic Food & Beverage service.
In agreement with GEMS American Academy, we have reviewed the current Service model in line with the school's specific service requirements (e.g. full canteen service, staggered breaks, remote service points, additional kiosks, meal deliveries) and we will continue to offer a range of wholesome, healthy snacks and lunches for your children. Our menus have been adjusted to include even more fresh and healthy food choices to provide students with the essential nutrients they need to stay healthy and support their immune systems every day.
SO WHAT ARE THE STEPS HAVE WE TAKEN TO ENSURE OUR SCHOOL CATERING SERVICES ARE SAFE…?
Our food is produced in our HACCP certified central kitchen and will be produced, packed and transported under strictly controlled protocols
Mandatory wearing of PPE (Mask, Gloves, Hairnet, Face shields, Disposable Aprons) while working within the premises.
No open Food displays, Live Stations, Salad Bar or Open Buffets.
All Food items will be served pre-packed and wrapped in single use, disposable packaging
Canteen seating areas (if in use) will be re-arranged to ensure social distancing
Seating areas will be sanitised after every break time
Additional Hand sanitising dispensers at canteen entrances
Ongoing daily deep clean of all kitchen & service areas by our trained staff with EPA approved chemicals
Additional reminder signage in place to encourage Handwashing and social distancing at pay points
Cashless Card system available for all students to make Contactless payments and we encourage all parents to please register for a Slices Cashless card on our Online Payment platform. [email protected]
Food items will not be displayed within reach of students, cannot be picked up and put back on the shelf
Daily temperature screening and symptom monitoring of all staff entering school sites
Revised Opening and Closing Cleaning and disinfection Checklists filled in daily, and will form integral part of regular Operations team site audits.
Daily end of day deep clean of canteen area, in readiness for next day
We understand that the "new normal" will be an adjustment for all our customers and staff, and as a company we are fully committed to reassure students and install trust and confidence that we are doing everything possible to protect our customers.
FOOD CHOICES & OUR NUT-FREE CAMPUS
Students nutrition and academic/social success are very closely linked so parents are encouraged to send their student to school with healthy food options. As such, students should not bring carbonated drinks or candy to school.
We also request that foods with nuts and nut oils not be brought to school as we have several students with serious allergies that are life-threatening.
PARENT CAFE
The Café, located in the main entrance lobby area, is intended for use by our adult community members as a place to purchase hot and cold drinks and a quick snack. The Café is open 7:30 a.m. - 4:00 p.m. on school days. Students should not use the Café unless accompanied by an adult.