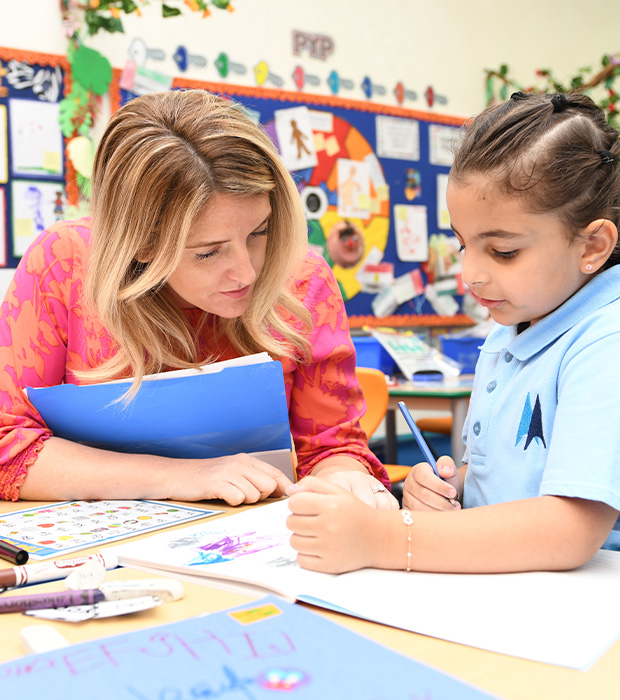 Leading Kindergarten in Abu Dhabi
Curriculum Overview
GEMS American Academy has one of the top kindergarten schools in Abu Dhabi. A part of the Primary Years Programme (PYP), it focuses on children from age three onwards, developing their skills and personalities in a happy, play-based learning environment.

Through inquiry, we provide student-led learning in an engaging and collaborative process where children learn at their own developmental pace through the International Baccalaureate (IB) learner profile, attitudes and concepts.

As one of the best pre-kg schools in Abu Dhabi, we aim to foster an environment that promotes exploration, innovation, respect, fun, differentiation and creativity. Our students become internationally minded global citizens who are able to communicate, reflect and interact effectively with the world around them.

So if you're looking for a preschool in Abu Dhabi where your child can flourish and develop as they progress from grade to grade, look no further. Come join our team on a journey of learning and discovery.
Introducing our brand-new outdoor learning space

Our brand-new Kindergarten outdoor learning area has been carefully crafted with a deep appreciation for the UAE's unique essence. At the heart of our design lies a celebration of the UAE's natural beauty and cultural identity. We have meticulously divided the play area into four distinct zones, each representing a different facet of this extraordinary country.
Oasis Zone
Desert Zone
Mangroves Zone
UAE Identity Zone
Our new space for Pre-KG2 offers a wide range of activities, including a role-play area, open theatre for creative expression, sandpits for sensory development, hopscotch for physical coordination, a tricycle area for gross motor skill development, a traffic and road safety area for early safety awareness, and even a gardening space to nurture a love for the environment. With these diverse zones and activities, children not only enjoy endless hours of fun but also acquire essential life skills and cultural understanding in a playful, engaging manner. Welcome to a world where learning and fun seamlessly blend together!
Explore the Kindergarten Curriculum
Curriculum: American Common Core Standards.

Framework: IB Primary Years Programme.

Through a play-based learning approach we have:

All teachers are early childhood specialists.
Educational assistants for every class.
Early years student support team with a counselor and inclusion specialists.


Purposeful facilities that support learning:

The Kitchen lab cultivates science and inquiry as well as hygiene and safety practices.
Students develop techniques in aquatics and safety in the swimming pool.
Our outdoor learning areas enhance gross motor skills and fosters an active learning.
Early literacy skills and a love of books is promoted in the KG library.
The Auditorium brings us together as a community to celebrate our learning.

Innovation and Technology:

Our research-based approach ensures learning engagements remain current.
Makerspace in every classroom ensures that students use design-oriented thinking to plan, create and build their ideas.
The provision of iPads in the classroom include a range of educational applications and understanding how to use technology responsibly.
All classrooms are equipped with interactive white boards and Apple TV's to accommodate all learning styles in a fun and engaging way.

Student support and well-being:

Built-in nap time for Pre-K students.
2 separate entrances for Pre-K and KG.
Mindfulness practice is intertwined in our day through the MindUp Curriculum.
Through the Zones of Regulation, students develop their self-management skills.
Inclusive practice with the student support team, ensures every child has access to an outstanding education.

What Does Our Day Look Like?

School arrival time for Pre-K and Kindergarten students is at 7:30 a.m. with class beginning at 7:45 a.m. and ending at 2:45 p.m for Pre-K and KG. Recess and snack/lunch woven throughout our day.

We encompass the holistic approach by exploring the below specialists:

Physical Education
Arabic Language
Islamic Education
Kitchen Lab
Library
Music

Our main pedagogical approach is inquiry, which moves students from their current understanding to new understanding by actively building connections between experiences and knowledge. Students become responsible for their learning by asking questions, carrying out investigations, and reflecting on their observations and processes in order to make a conclusion. Kindergarten classrooms are full of enriching, play-based engagements. Students manipulate the environment around them in order to make sense of the world.

We have enrichment opportunities throughout the year for students to share their learning, such as Arts Festival and Sports Day. Each class participates in community shares, student-led conferences, and end of unit celebrations; these are times when students communicate their learning to parents either in the classroom or in the auditorium.