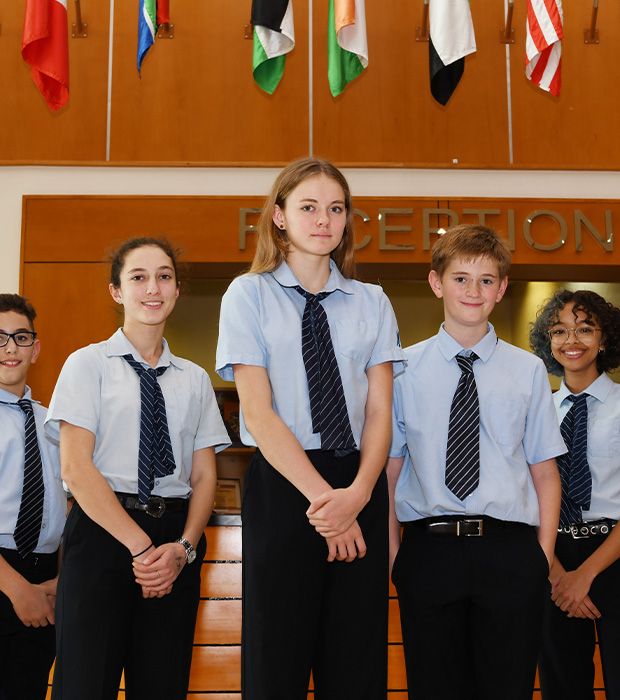 Uniform
The aim of our uniform is for students to present a neat, work-like appearance at all times and to take pride in being members of GEMS American Academy. In accordance with ADEK policy, the school's uniform is compulsory and should reflect the school's commitment to honor UAE traditions, culture and religion.
The GAA uniform supplier is Threads. Parents are able to purchase the uniform from Threads main retail outlet at Capital Mall (daily from 10am - 10pm). It is also possible to order online from www.Threadsme.com. Threads may also be reached at our toll free number 800 (THREADS) 8473237.
All uniform items, including bags, lunchboxes, water bottles and other personal belongings should be clearly labeled at all times. This will aid in the swift return of misplaced belongings.
Appearance
Full and correct GAA uniform must be worn at all times. This includes travelling to and from the school.
Full and correct GAA uniform must be worn following after school activities (ASAs) and when embarking on school trips (unless otherwise instructed by a member of staff in writing).
Ties should be tied in a small neat knot that covers the fastened top button.
GAA sweaters may not be tied around the waist at any time.
Students may wear a watch.
Girls may wear one small stud earring in each ear lobe and these should be removed for PE and swimming.
Any additional jewelry of religious significance is subject to written approval by the school (and following a formal request from the parent).
Makeup and nail polish may not be worn.
Students may not wear school uniform when involved in social events unrelated to the school.
Students should wear full school uniform to all Parent Teacher Consultations and other formal school events.
Hairstyles
Girls hair should be tied back fully off the face in one or two braids or ponytails. The sensible use of hair accessories is acceptable to keep hair orderly and neat e.g. Alice band, hairband, clips, slides, elastic bands etc. as long as they are plain white, dark blue or black.
Student's hair must be of a natural color rather than bright, obvious or "unnatural", and be neat and of a modest style. Hairstyling products (non-colored gel, wax, mousse etc.) can be used to style hair in a neat and tidy manner, but not to create exaggerated hairstyles, for example, spikes. If a hairstyle contravenes these requirements the student will be requested to amend this with immediate effect and if this is not possible they will be required to remain at home until such time as their hair has returned to an acceptable condition.
Non-Uniform
GAA may not require uniforms whilst participating in after or out of school activities or on designated special dress days. However, students should be properly dressed in a manner that is not offensive to our host country. The following rules will apply:
No tight clothes
No spaghetti strap shirts
No exposed midriff
No hoodies
No offensive logos or expressions on clothing
No skirts/ shorts above the knee
The Secondary Administration may require a student to return home for the purpose of changing clothing. Our policy is: Wear clothing that is respectful to yourself and others.
The only excused uniform violation should be by way of parental notification to the Secondary Office before the start of the school day. The consequences for violation of the uniform policy range from after school detention or out of school suspension.
Elementary School Uniform Requirements
Click here to download Elementary School Uniform Policy in PDF format
Middle / High School Uniform Requirements (Grades 6-12)
Click here to download Secondary School Uniform Policy in PDF format