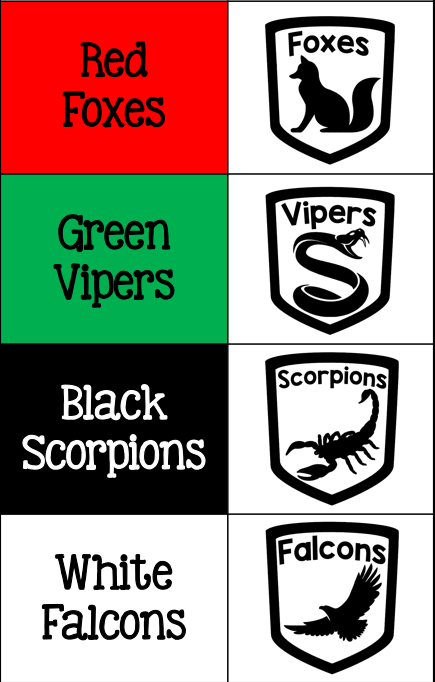 GAA House System
At GAA, the school is divided into 4 house teams. The house system is designed to further foster community spirit as well as provide students with the opportunity for some friendly competition. Once families are assigned to a house at random then they will remain in that house for their duration of study at GAA – this helps to let students develop a sense of identity or belonging and learning that their achievements can have an impact on the school community. It is important to note that siblings are assigned to the same house as their siblings, so any new students who already have siblings in the school will be assigned to the same house.
The 4 houses at GAA were created to infuse different aspects of the UAE in them. They are all animals that can be found in the UAE and the colors are the 4 colors of the UAE flag. The teams are as follows:
Falcons (white)
Scorpions (black)
Vipers (green)
Foxes (red)
Within the school there are different interhouse competitions that take place. The potential for many interhouse competitions is endless, and each year new challenges are added. Here are some the competitions that have taken place:
Sports Days
Coin Wars
Reading Marathon
Student Leadership Challenges
Throughout every day, the students also have the opportunity to earn house points for their house. They do this by demonstrating that they are responsible members of the GAA community. In KG1 to Grade 5 they earn their points by exhibiting the 10 Learner Profile Attributes that are a core part of the PYP Framework that we follow. At the end of each semester, we reward the winning house with a fun prize for their hard work – this is based on the number of house points that they were able to earn collectively.
In order to encourage the students to show their house spirit, we allow them to buy and wear their house t-shirts at school. In elementary, the house shirts can be worn on PE days as well as every Friday. In secondary, the students are informed when they can wear the house shirts based on each department. You can purchase the house shirts by contacting Claire Davies who is the Elementary Innovation and Technology Coach and a member of the PBIS Team by emailing her at [email protected]