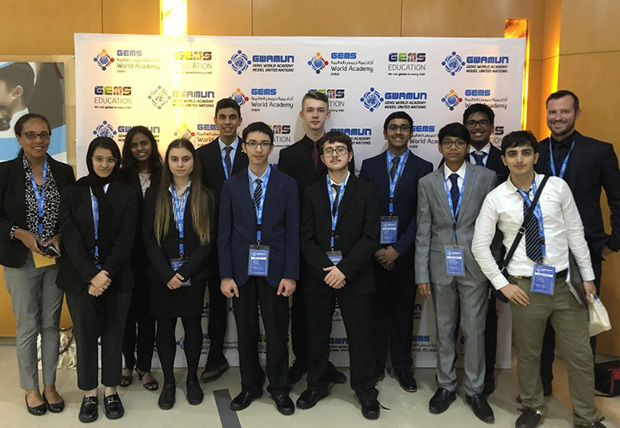 Model United Nations with GAA
In January 2020 GAA students participated in the Model United Nations session in GEMS World Academy in Dubai, with a unique opportunity to represent their views and opinions in the presence of His Excellency Ban Ki-moon, the former Secretary-General of the United Nations!
Students discussed a range of issues including but not limited to corporate social responsibility, and how the nations of the world would handle the first contact with other living beings in our universe. To start an especially large thank you to Lekh Bhatia for his tireless work as both a committee chair and the lead student advisor for the club. Lekh has given immense time and care to this endeavour helping resurrect this organization within the school. His coaching and training supported the club members during the intense preparation for this event. As a result of the hard work and preparation, both Jackson Roby and Daria Botnaru were identified by their committee chairs for their outstanding efforts. Jackson was recognized as the best delegate in the Futuristic Security Council, while Daria was recognized as the second-best delegate on the commission on crime prevention and criminal justice. GAA was also proudly represented by Noora Al-Ozaibi, Ahmad Sayad, Daniel Gergis, Dhruv Nair, Siddharth Guntreddy, Preethika Kannan, Danial Hamdan, and Divyanshu Gupta. We would also like to thank Ms Susanna Kanyi for her help supporting the growth and redevelopment of this student organization. Thank you Ms Ruba Alhemsi, our Government Relations Executive, for her work with ADEK to ensure our students were able to participate in such an enriching event.